The next generation is just a few weeks away for the world's hottest smartphone without a piece of fruit on it.
The Samsung Galaxy S IV will be unveiled March 14 at a New York event, the company announced Monday.
The release will mark the latest assault in what's rapidly become a two-phone race for supremacy on the mobile landscape.
Samsung confirmed the plans at Mobile World Congress, the massive tech show currently under way in Barcelona, Spain. Samsung unveiled a new tablet there but, taking a page from Apple's playbook, opted not to roll out its flagship phone during the crowded event where many rival products are clamoring for attention.
"We introduced the Galaxy S III in London last year, and this time we changed the venue (to New York) … as we were bombarded with requests from U.S. mobile carriers to unveil the Galaxy S IV in the country," J.K. Shin, the head of Samsung Mobile, was quoted as saying by Korean media.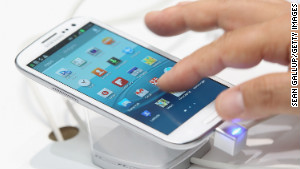 The Samsung Galaxy S III became the first smartphone to outsell the iPhone last fall.
The company followed witha post on Twitter containing the less-than-subtle message, "March 14. Ready 4 the show?"
The post linked to a promo inviting people to "come and meet the next Galaxy." Details on the new phone's features are scarce, although analysts expect that it will have a higher-resolution screen.
All but the most ardent of tech pundits have abandoned the idea that a mythical "iPhone killer" will emerge from Apple's bevy of competitors.
But in the Galaxy S III, the fragmented field of phones running on Google's Android operating system found a champion: a single gadget to put forward for an apples to apples (if you will) comparison to the iconic iPhone.
And the results can't have made folks in Cupertino happy.
How Samsung is out-innovating Apple
In the third quarter of last year, the Galaxy S III became the first smartphone to outsell the iPhone.
The Galaxy S III shipped 18 million units worldwide in that three-month span from July to September, compared with 16.2 million for the iPhone 4S, according to research by Strategy Analytics.
With the release of the iPhone 5, Apple retook the lead in the final months of 2012, selling an estimated 27 million. But the S III hung in there with another 15 million units sold.
The companies have also been engaged in a nasty$1 billion patent battle.
And Samsung has stepped up its advertising in a major way, with Apple squarely in its sights. The Korean company was a sponsor of Sunday night's Academy Awards telecast, and it and Apple went head-to-head with big advertising buys during the broadcast.
Sources:http://www.cnn.com